---
WHAT YOU NEED TO KNOW:
One lot of Beech-Nut's single grain rice cereal has been recalled over high levels of arsenic.
Food policy officials said that many baby food products contain toxic heavy metals, which underscores the need for stricter limits.
No illnesses have been reported in relation to the product.
---
Popular baby food brand Beech-Nut Nutrition has voluntarily recalled one lot of its single grain rice cereal due to high arsenic levels.
The company also stated in its recall notice that it will no longer sell that particular product. They cited concerns about consistently obtaining rice flour that contains naturally occurring inorganic arsenic at levels below the FDA guidance level and Beech-Nut specifications.
The FDA's guidance for infant rice cereal recommends no more than 100 parts per billion of arsenic. But according to the House Oversight subcommittee's report in February, some of Beech-Nut's ingredients tested as high as 913 parts per billion for arsenic.
According to Beech-Nut's vice president of food safety and quality, Jason Jacobs, the company promptly issued a recall upon learning about the levels through routine sampling by the state of Alaska.
"The safety of infants and children is Beech-Nut's top priority," he added.
Several other popular baby foods have been found to contain levels of arsenic, lead, and other toxic metals that can harm brain development, according to the subcommittee investigation months earlier.
The Importance of the Baby Food Safety Act of 2021
The Baby Food Safety Act of 2021 would require the FDA to adopt stricter limits, which is why Consumer Reports and the U.S. PIRG Education Fund are calling on Congress to pass it as soon as possible.
Consumer Reports director of food policy, Brian Ronholm, said, "We've known for years that toxic heavy metals are found in popular baby foods and can lead to serious health problems in children over time. This recall underscores why we need strict limits to keep dangerous heavy metals out of the food that so many parents serve their young children every day."
Teresa Murray, U.S. PIRG Education Fund Consumer Watchdog, said that the Baby Food Safety Act would require baby food manufacturers to test their final products and disclose results to regulators and parents.
Beech-Nut rice cereal recall lot
Consumers should be on the lookout for the recalled Beech-Nut Single Grain Rice products with an expiration date of May 1, 2022, and a UPC code of 52200034705. Its specific product codes are 103470XXXX and 093470XXXX.
These numbers can be found at the bottom of the rice cereal canister.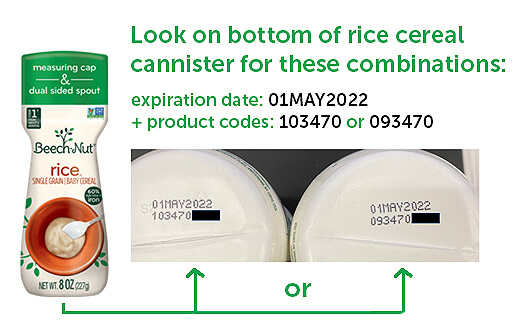 The lot with these specific product codes was distributed throughout the country online and in physical stores.
The company reported, "No illnesses related to these product codes have been reported to date, and no other production dates or Beech-Nut products are affected by this recall."
Consumers should discard recalled products. For refunds or replacements, consumers can fill out a form on Beechnut.com/ricecereal or call 1-866-272-9417, for more information.
Source: Aol.com