---
WHAT YOU NEED TO KNOW:
Around 70% of Americans support same-sex marriage, according to the latest poll by Gallup.
The poll revealed that the majority of Americans, across all parties and age groups, now support same-sex marriage.
The highest shift in support was seen among Republicans and older adults.
---
A new Gallup poll revealed record-high support for same-sex marriage in the US. The poll showed a 10-point increase to 70% from 60% in 2015, which was the year the Supreme Court ruled for the recognition of same-sex marriages across all 50 states.
Barbara Simon, the head of news and campaigns at the Gay and Lesbian Alliance Against Defamation (GLAAD), celebrated the poll results as "undeniable forward progress for LGBTQ acceptance."
Simon stated, "As more Americans see and know LGBTQ people and couples, they see our relationships are as loving, as valuable, and as worth protecting as any straight marriage."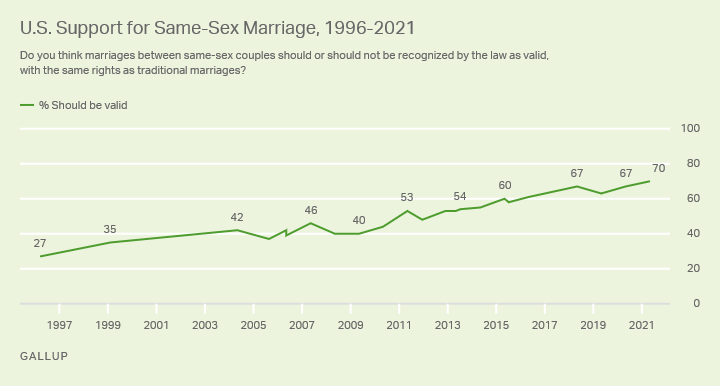 Back in 1996, Gallup's very first survey of its kind revealed that only 27% of Americans believed in recognizing same-sex marriages as valid and lawful. But support only steadily increased since then, until it reached the majority in 2011.
According to Gallup, the notable increase could be attributed to a shift in perception among Republicans, as well as older adults.
The support percentage among Republicans remained the lowest among party groups and well below the majority for several years. It was only this year that the support reached the majority at 55%, which is a striking increase from 49% in 2020 .
Meanwhile, support maintained a steady level among Democrats. This year, 83% showed support, which didn't change much compared to recent years. Gallup pointed out that this could suggest the percentage as the group's current ceiling point.
Support also steadily increased across all age groups.
Young adults (aged 18 to 34) showed the highest support at 84%, followed by 72% from middle-aged adults (aged 35 to 54). Older adults (aged 55 and older) historically showed the lowest support but have now shown 60% support for same-sex marriages.
A routine poll from Gallup earlier this year revealed that about 5.6% of American adults identified as LGBT. The polls showed that one in every 6 adults born between 1997 to 2021 identified themselves as not straight.
Legislative challenges to marriage equality have decreased following the Supreme Court's ruling in the landmark case of Obergefell v. Hodges in 2015. Still, the LGBTQ community continues to face many other restrictive laws.
Simon of GLAAD took the survey results as a signal to call for the protection of "every LGBTQ American from discrimination in other areas of society" through the Equality Act. 
Simon declared, "Historic support for our families should be a clear signal to every U.S. Senator that the time has come to pass the Equality Act. The Senate should join the overwhelming majority of Americans in supporting laws that make our families and our country safer and stronger."
The survey used a random sample of phone interviews with about 1,000 adults nationwide last month. The poll results were published on Tuesday.
Source: CBS News